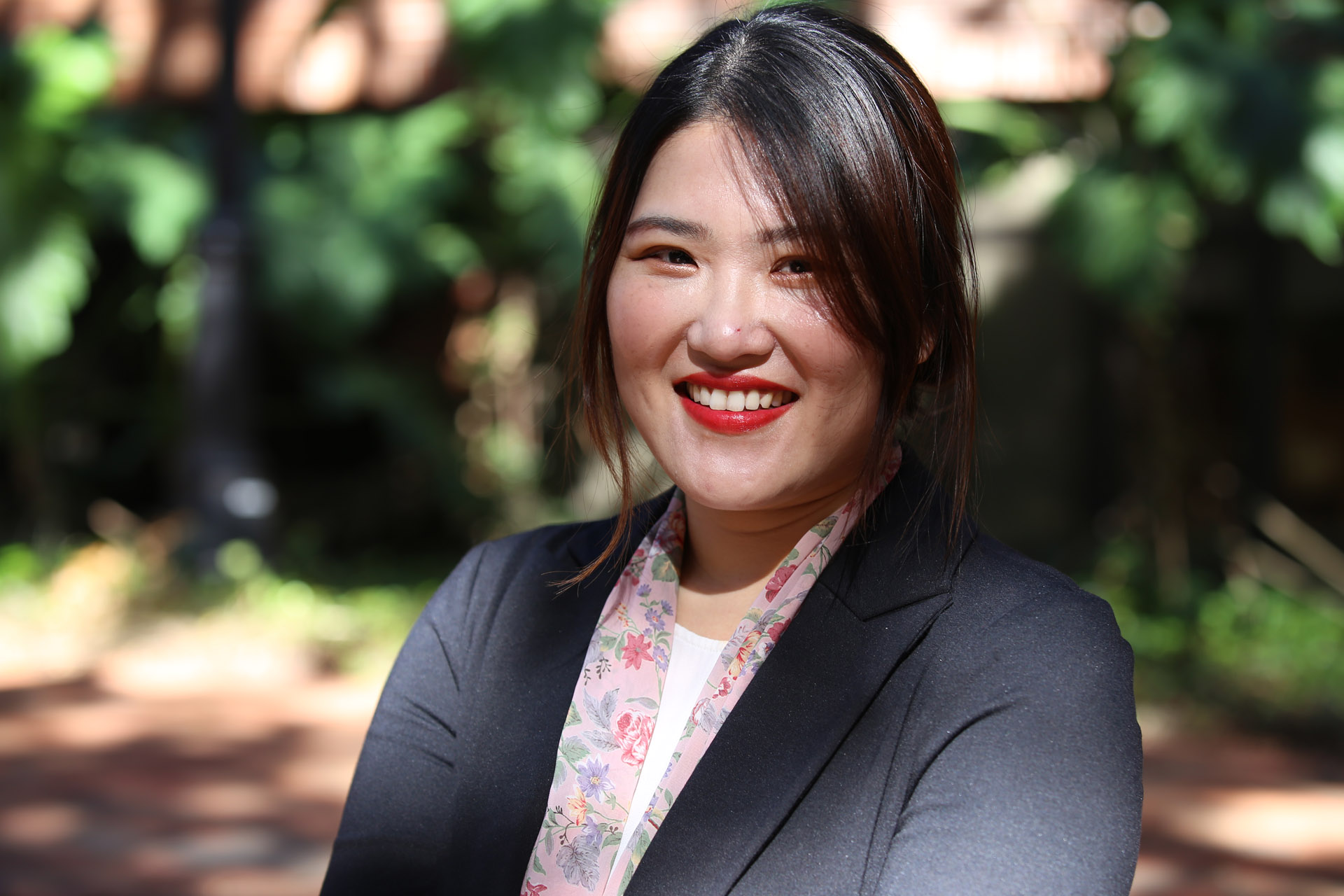 Boram Song has always had a way with words — and teaching the English language to young children. In fact, for nearly 10 years, she served as an educator; instructing them and searching for evidence-based curricula to support them. Eventually, this search led to a bright idea: developing an evidence-based curriculum of her own. In 2018, she applied to the Anita Zucker Center, thrilled about the opportunity to develop a deeper understanding of how young children learn.
Boram took some time to discuss her experiences at the Center.
Alexis Brown: What's your background? 
Boram Song: My academic background is all about English education. I earned my bachelor's degree in English Language and Literature from Yonsei University in South Korea. Then, once I completed it, I obtained my master's degree in Instructional Development from the University of Maryland in Baltimore with a certificate of teaching English for speakers of other languages.  I have worked as an English teacher in South Korea and in the United States for about 10 years.
AB: How did you develop an interest in early childhood?
BS: First of all, I have always loved teaching young children. However, my various teaching experiences made me realize the variety of curriculum and advanced theories in the field of English education may not always meet the needs of young children. It was very difficult for me to implement effective instruction with young children.
As a result, I obtained an associate degree in early childhood studies via a national school teaching certificate in South Korea, and, in 2018, began my studies in early childhood studies at the University of Florida.
AB: What's something about early childhood that most people don't know?
BS: What has most impressed me is that a child's brain develops more than any other time in life during the early childhood years. Children develop brain connections through their everyday experiences and observations. As they experience positive interactions with their parents and caregivers, those relationships influence their brain development.
AB: What's the coolest thing about studying at the Center?
BS: The coolest thing about being a member of the Center is that I can participate in research projects that impact a variety of children. I think it is a really great opportunity.
AB: What's a way that your work at the Center has impacted your perspective about early childhood?
BS: Before I came here, I only focused on exploring effective teaching practices or curricula for children. However, working at the Center has changed my perspective in that I think it's also important to support the learning of teachers and caregivers who teach and interact with young children. Teachers and caregivers are important implementors of the strategies that support children's growth and development. It's important for me to improve the interactions between a teacher and their students. I am learning how to do this through practice-based coaching.
AB: Very cool. Last questions — who are your advisors? What projects do you work on and what is your role?
BS: My advisor is Dr. Snyder, and I'm working on the Embedded Instruction project. My job is observational coding — specifically coding preschool children's engagement using a system known as the Engagement Behavior Observation System or EBOS. We use our observational coding system to quantify and evaluate patterns of child engagement that occur during naturally occurring classroom activities, routines and or transitions. We are using these engagement data to evaluate whether children whose teachers received a professional development intervention focused on embedded instruction exhibit higher levels of engagement during everyday activities than children whose teachers have not received this professional development intervention.
AB: Thank you Boram!
Story by: Alexis Brown