Professional Development/Practice Based Coaching (PBC)
Practice-based coaching (PBC) helps people learn what to do and say to support young children's development and learning and their families. Coaches support anyone who interacts regularly with young children, including practitioners and families. Anyone can benefit from receiving PBC, because what people learn to do or say as they support young children is matched to their strengths, needs and goals.
PBC is recognized nationally and internationally as a recommended practice. The Anita Zucker Center and our collaborators have received continuous support to develop and study practice-based coaching from local, state, and national sponsors since 2007. Our research focuses on helping people learn to do PBC and looks at how PBC supports positive outcomes for those who interact regularly with young children and for children's development and learning.
"The whole coaching framework has led to a more reciprocal relationship between [myself] and caregivers. Now I am comfortable asking questions and waiting for answers. And parents trust me and feel comfortable enough to ask questions, too."
PBC Spotlight on Effective Practices
Effective practices are at the center of PBC. They are things people do and say that have been shown to have positive results for children and families. Read more about some of the many practices we study at the Anita Zucker Center for Excellence in Early Childhood Studies: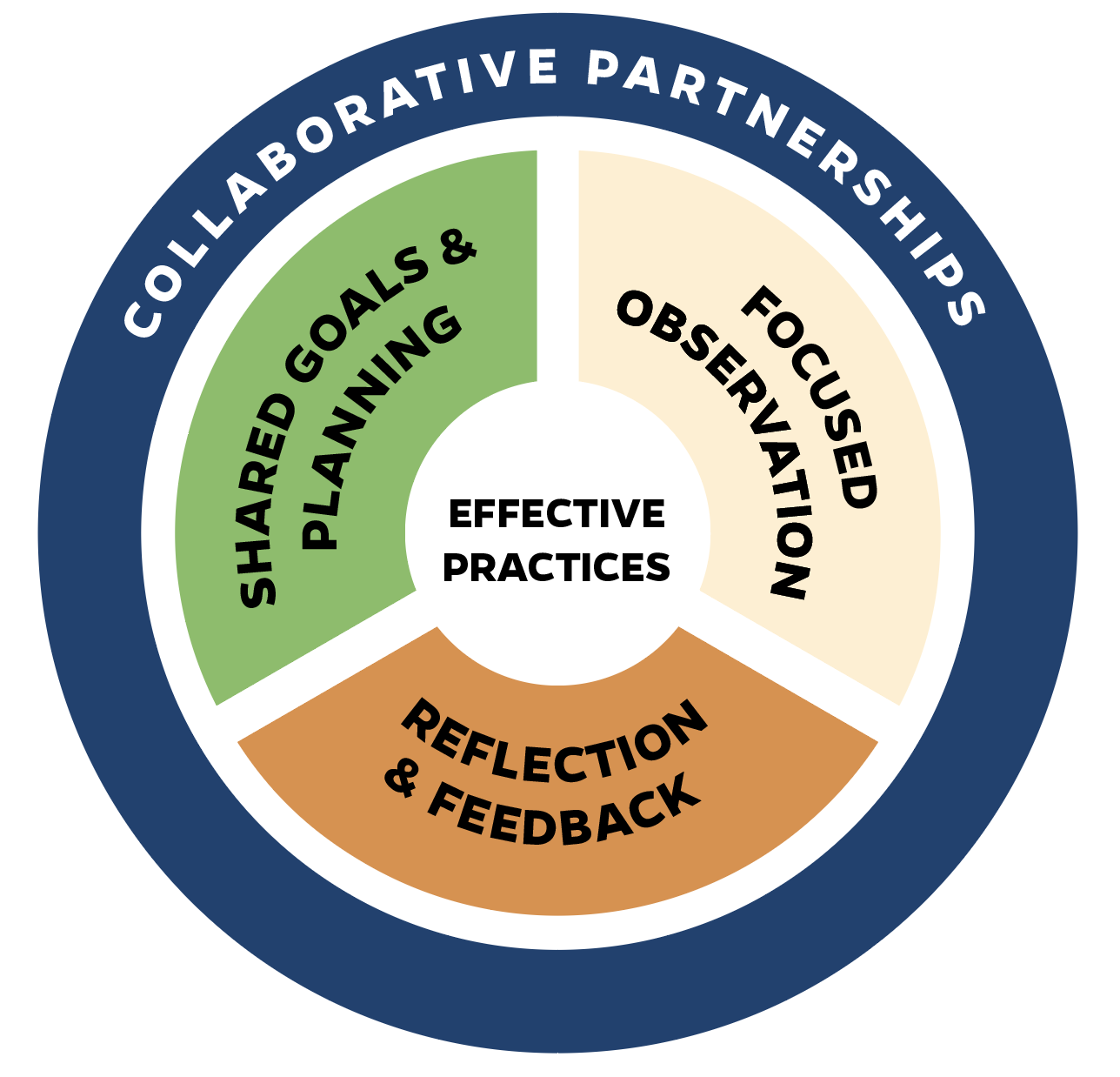 PBC has four parts. Coaches use the four parts of PBC to help people who interact regularly with young children learn effective practices.
1. Collaborative Partnerships
Working together to learn and use practices.
2. Shared Goal Setting and Action Planning
Making decisions together about what practices to use and when, where and how to use the practices.
Working together to learn and use practices.
4. Reflection and Feedback
Talking about when, where and how practices were used by reflecting and sharing feedback.
"I found coaching to be really helpful because it helped my coach also understand the context [in which] I teach. It helped her see what our classroom is actually like and give me feedback that was tailored to my classroom, and that was actually realistic and doable, which I really appreciated.'"
Generating Knowledge
Research on PBC has led to its identification as a recommended practice in early childhood and its use by local, state, national, and international partners.
Engaging with Partners
Our work developing, studying, and using PBC has engaged local, state, national, and international partners who use PBC to support young children and their families at home, in early learning programs, and in the community.
Preparing Leaders
Early childhood leaders from undergraduate through post-doctoral levels at the University of Florida and at collaborating institutions of higher education have been participating in or helping to expand and refine the use PBC since 2007.
Making an Impact
PBC has helped teachers, service providers, and families throughout the United States and the world learn to use effective practices.
"It was just nice to get some on-the-spot feedback, which made me feel more reassured about the practices I was using"
Research on Practice-Based Coaching shows:
PBC helps people learn a variety of practices to support young children and their families.

People who have participated in PBC say it increased their confidence to support young children and their families.
"As a coach, I am able to point out the practices teachers [are] using with the children during their everyday learning opportunities. Sharing this feedback boosts their confidence to continue to educate and nurture our young ones."
Practice-Based Coaching
Learn about the basics of PBC and its research basis as a professional development strategy. Find out how PBC connects to the Head Start Program Performance Standards.