BEST in CLASS is designed to help people who interact with young children, including practitioners and caregivers, to encourage their social-emotional learning and development. When young children enter early childhood classrooms, most of them learn the social-emotional skills needed to actively engage in classroom activities and get along with practitioners and friends. Some children need additional support to learn how to follow classroom expectations and routines, participate in classroom activities and play with their friends. Caregivers and family members play an important role in fostering their children's social-emotional skills at home and in the community. When children learn these social-emotional skills at school or home, they experience positive relationships with their practitioners, friends and family members which optimizes their early learning experiences and their future.
BEST in CLASS is nationally recognized as an evidence-based intervention. Since 2008, the Anita Zucker Center and BEST in CLASS research partners have received continuous support from federal sponsors. Our research focuses on enhancing practitioners' and caregivers' use of supportive practices to teach young children important social-emotional skills as part of their everyday learning opportunities.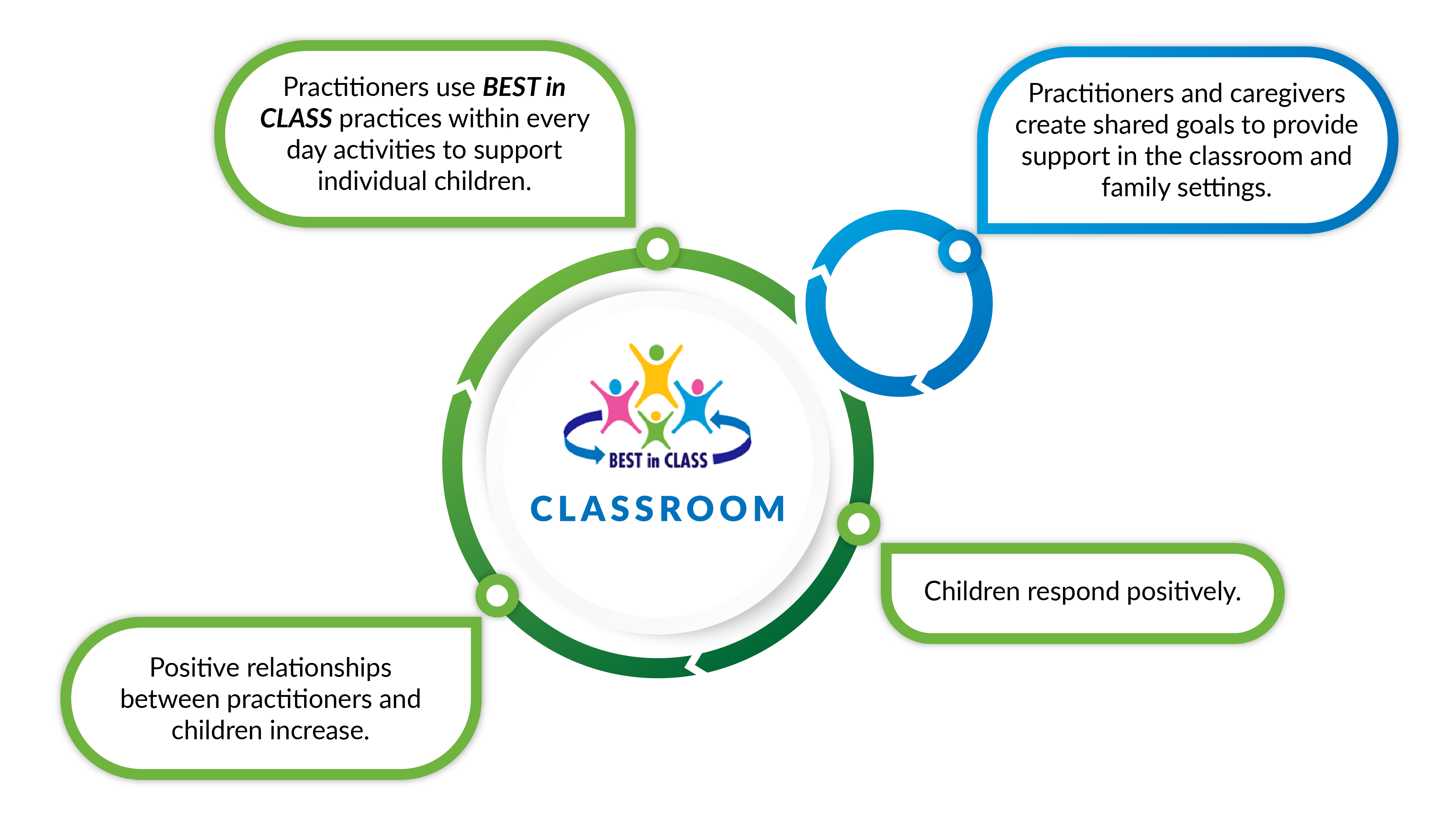 How It Works
Practitioners use the BEST in CLASS practices within everyday classroom activities to help provide additional support to individual children who are learning how to follow classroom expectations and get along with their friends. Using the BEST in CLASS practices helps individual children learn foundational social-emotional skills and they are more likely to respond positively to the practitioner. As a result, the relationship between the practitioner and child becomes more positive. 
Over time as practitioners continue to use BEST in CLASS practices, positive relationships continue to strengthen, leading to a more positive learning environment and engagement.  Practitioners also partner with children's caregivers to create shared goals and support families' engagement in their child's learning and development.
"I just loved watching [the children in my class] be happy about learning and be willing to engage and be excited about the outcomes when they felt like they had done better on their work than the week before. …and that was because of the tools I was getting from BEST in CLASS."
Generating Knowledge
Research on BEST in CLASS has led to its identification as an effective program by the National Institute of Justice and meets the criteria of the What Works Clearinghouse, Institute of Education Sciences and the U.S. Department of Education.
Engaging with Partners
Our work on BEST in CLASS has engaged local, state and national partners to include BEST in CLASS with practitioners and children in their early childhood classrooms.
Preparing Leaders
Future leaders in early childhood studies and related fields at the University of Florida and our partnering institutions of higher education have participated in BEST in CLASS since 2008.
Making an Impact
BEST in CLASS has made impacts across the United States, including Florida, Virginia, Colorado, California and Canada.
"I've been teaching for 20 years, and this was one of my biggest years in growth I felt as a teacher. I cannot wait to start the school year with the BEST in CLASS practices in place on the first day of school."
Early childhood practitioners increase their use of BEST in CLASS practices with young children who need extra social-emotional support.
When practitioners use BEST in CLASS practices, young children in their classrooms are more engaged, experience positive interactions with their practitioners and friends, and have fewer challenging behaviors.
BEST in CLASS improves the overall learning environment and engagement for individual children in the classroom, which has a positive impact for everyone.
Practitioners who use BEST in CLASS say they are more confident in their teaching abilities and they learn new ways to support children in their classrooms.
Family members increase their partnerships with their children's practitioners.
"BEST in CLASS allowed me to build really strong relationships with [children in my class] and with their families. And that was really helpful in getting them to trust me and just establishing that bond, which made them work so much harder for me in the classroom."
"[BEST in CLASS] especially helped [the children in my class] that just need a little extra. A little extra love, a little extra attention. And it really helps them shine. I saw a huge difference in their behavior from the beginning to the end."
Our Work in BEST in CLASS