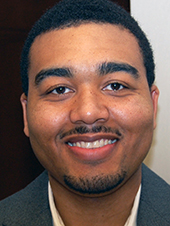 UF College of Education Alumnus Brian Boyd has been selected for prestigious national honors from the Council for Exceptional Children for his outstanding research.
Boyd won the 2016 Distinguished Early Career Research Award. The honor recognizes scholars who have made outstanding scientific contributions in basic or applied research in special education within 10 years after receiving their doctoral degree. The Arlington, Virginia-based Council for Exceptional Children is the world's largest organization of special education professionals and educators. The organization presented the award in April in St. Louis at the group's annual convention.
Boyd now is an associate professor at the University of North Carolina at Chapel Hill. He received a doctorate in special education in 2005 from UF under the mentorship of Maureen Conroy, Ph.D., who now serves as co-director of the Anita Zucker Center for Excellence in Early Childhood Studies.
UF Special Education Professor Mary Brownell said, "The Early Career Award is one of the most significant awards recognizing the promise of young scholars in special education."
The official language from the award said: "Dr. Boyd is considered one of the most promising scholars in early childhood and autism. He has published 46 papers in top-tier journals, such as the Journal of Child Psychology and the Journal of Autism and Developmental Disorders, and his work is cited frequently."