Sometimes, adverse childhood experiences, or "ACEs" are unavoidable. Ranging from physical abuse to substance abuse within a child's household, these experiences can have detrimental consequences for children affected by them.
For Dr. Melissa Bright, a developmental psychologist trained at the University of Georgia, and the Anita Zucker Center's newest faculty member, finding innovative ways to identify ACEs and to lessen their impact during early childhood is a priority.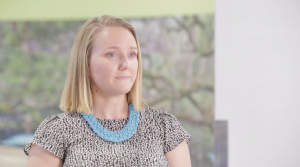 Bright joined the Anita Zucker Center after four years as an assistant research scientist at UF's Department of Health Outcomes and Policy. With a research focus on childhood adversity among young children, she brings a unique research approach to the center.
"I take a very interdisciplinary approach — working with colleagues in the Departments of General Pediatrics, Child Protection, and Psychology — to gain a holistic perspective on the different outcomes and risk factors of child maltreatment and adversity," Bright said.
One of Bright's most recent collaborations with Dr. Lindsay Thompson, Assistant Director of Research at the Institute for Child Health Policy, Associate Professor of Pediatrics and Health Policy, Director of the General Pediatrics Continuity Clinic (Children's Medical Services location), and an Anita Zucker Center affiliate member at UF has resulted in a new publication: "Association of Adverse Childhood Experiences with Co-occurring Health Conditions in Early Childhood."
The Journal of Developmental & Behavioral Pediatrics recently accepted their publication. It highlights an association between multiple ACEs and multiple conditions across three important domains of early childhood: physical health, mental health and developmental progress.
The study's findings were significant for a few reasons. First, never before have researchers been able to identify so many co-occurring factors that stem from ACEs. According to Bright, a large dataset from National Survey of Children's Health provided a unique opportunity to study such complex interrelationships.
Second, the study's findings identify the need for and provide the opportunity to create tools for practitioners to aid with the identification of ACEs. One tool, notes Bright, could strengthen practitioners' ability to provide appropriate supports for children facing ACEs.
"We want a tool for pediatricians to identify these adverse experiences," she said. "We need for them to be able to do it efficiently, but also to feel comfortable with the questions that they're asking because they are quite sensitive," she said. "The second line of the research that we're working on is actually seeing how early can we identify these experiences and address them."
According to Bright, the results of the study have been impactful, allowing researchers to look at a complex relationship between ACEs and numerous early childhood health domains. In the future, Bright hopes that this study could also aid researchers in developing additional research questions and holistic supports for children.
"If we know that some of these experiences are happening within the first couple of years, and we're seeing these health outcomes very early, then potentially we can identify the risk during the prenatal period and start to implement services before the baby's even born," she said.
Watch a video of Dr. Bright and Dr. Thompson's full interview below.