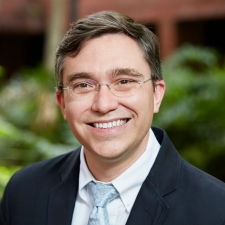 Education
Postdoctoral Fellow,
Yale Child Study Center, Connecticut
Ph.D. in Early Childhood Special Education,
Peabody College at Vanderbilt University, Tennessee
M.S. in Early Childhood Special Education, Peabody College
at Vanderbilt University,
Tennessee
A.B.E.D. in Elementary Education and Psychology,
University of North Carolina
at Chapel Hill
Awards & Appointments
Global Fellow, University of Florida, 2015-2016
Associate Editor for Journal of Autism and Developmental Disorders, 2014–present
Council for Exceptional Children, Division of Research: Early Career Publication Award, 2010
Robert Gaylord-Ross Award for Outstanding Scholarly Paper: Vanderbilt University, 2008
Doctoral Leadership Training Fellowship, Office of Special Education and Programs, United States Department of Education, 2004-2008
Certification
Doctoral-level Board Certified Behavior Analyst, Behavior Analysis Certification Board (Certificate #1-09-6700), 2009-2017
Biography
Dr. Reichow's current research interests include the translation of research to practice, the use of systematic review methods and meta-analytic methods to identify evidence-based practices, and applied research involving young children with or at risk of developing disabilities and their families. He is also an ongoing technical advisor for the World Health Organization (WHO).
He is currently working with colleagues at the WHO and other international sites to develop practice guidelines and training materials to increase the identification, management, and treatment of children with developmental disabilities in lower- and middle-income countries.
Widely published, Dr. Reichow has authored over 50 scholarly articles and chapters. In addition, he has edited three books; Evidence-Based Practices and Treatments for Children with Autism [Reichow et al., 2011], Adolescents and Adults with Autism Spectrum Disorders [Volkmar, Reichow, & McPartland, 2014] and the Handbook of Early Childhood Special Education [B. Reichow, B. A. Boyd, E. E. Barton & S. Odom, 2016].
Dr. Reichow is currently an associate editor for the Journal of Autism and Developmental Disorders and serves on numerous other editorial boards of early childhood and special education journals. Dr. Reichow has received numerous awards and recognition for his work including the Gaylord Ross Dissertation Award at Vanderbilt and the 2010 Council for Exceptional Children, Division of Research Early Career Publication Award.
Dr. Reichow completed his graduate degrees in special education at Vanderbilt University and completed a two-year postdoctoral fellowship at the Yale Child Study Center, where he remains an adjunct faculty member. Prior to his graduate studies, Dr. Reichow received degrees in elementary education and psychology at the University of North Carolina at Chapel Hill and was a teacher of students with autism in early childcare settings and public elementary schools.
Affiliations
Associate Editor, Journal of Autism and Developmental Disorders, 2014 — present
Co-Leader, Research to Practice Special Interest Group, Council for Exceptional Children Division of Early Childhood, 2013 — present
Expert consultant and technical advisor, World Health Organization, 2013 — present
Recent Grants
Adaptation of World Health Organization Caregiver Skills Training for Caregivers of Children with Disabilities in Zambia
Funded by UF College of Education – College Research Incentive Fund (8/2016 – 8/2017)
Role: Principal Investigator
Award: $40,000
Preparing Leaders in Early Childhood Studies and Implementation Science (PLECSIS)
Funded by US Department of Education Office of Special Education Programs H325D150079 (5/16/15 – 4/15/19)
Role: Principal Investigator
Award: $995,218
Select Publications
B. Reichow, B. A. Boyd, E. E. Barton & S. Odom (Eds.) (2016). Handbook of early childhood special education. Springer Publishing Co.
Barton, E. B., Reichow, B., Schnitz, A., Smith, I. C., & Sherlock, D. (2015). A systematic review of sensory-based treatments for children with disabilities. Research in Developmental Disabilities, 37, 64-80.
Doehring, P., Reichow, B., Palka, T., Phillips, C., & Hagopian, L. (2014). Behavioral approaches to managing severe problem behaviors in children with autism spectrum disorders and related developmental disabilities: A descriptive analysis. Child and Adolescent Psychiatric Clinics of North America, 23(1), 25-40
Reichow, B., Lemons, C. J., Maggin, D. M., & Hill, D. R. (2014). Beginning reading interventions for children and adolescents with intellectual disability. Cochrane Database of Systematic Reviews 2014, Issue 10, CD011359. doi:10.1002/14651858.CD011359.
Reichow, B., Servili, C., Yasamy, M. T., Barbui, C., & Saxena, S. (2013). Non-specialist psychosocial interventions for children and adolescents with intellectual disability or lower functioning autism spectrum disorders: A systematic review. PLoS Medicine, 10(12), e1001572. doi:10.1371/journal/pmed.1001572.
View full list of Dr. Reichow Publications (pdf)