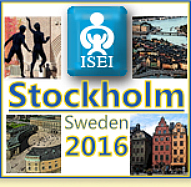 Held in conjunction with Stockholm University, June 8 – 10, 2016
Children's Rights and Early Intervention<
81 — Paper Session, June 10, Caregiver-Child Interaction
Building Caregiver Capacity to Embed Interventions
Juliann Woods, Ph.D.; Patricia Snyder, Ph.D.; Christine Salisbury, Ph.D.
Presenting Author: Patricia Snyder, Ph.D.
Abstract
Embedded Practices and Intervention with Caregivers is a project testing a systematic coaching approach to teach caregivers whose infants/toddlers have moderate/severe disabilities how to embed learning opportunities in everyday activities to improve motor and communication outcomes. Caregivers use five guiding questions and a visual model to plan and practice what and how to support their child's learning throughout their day. Preliminary data from providers and caregivers will be shared.
About the Conference
The rights of all children to develop to their full potential and to participate without barriers in all aspects of society constitutes the overarching theme of the International Society on Early Intervention Conference. Encouraging and supporting the inclusion of children with developmental delays and disabilities in natural environments, including family settings, child care, and preschool programs, is at the core of maximizing children's rights. Indeed, the concept of full participation is consistent with two United Nations treaties that address these rights: Convention on the Rights of the Child and Convention on the Rights of Persons with Disabilities.