In early December, Associate Professor Brian Reichow, Ph.D, will leave his office at the Anita Zucker Center for Excellence in Early Childhood Studies for Zambia to begin developing new trainings for parents who have children with disabilities. This trip, in collaboration with the World Health Organization (WHO), will continue Dr. Reichow's five year work with the organization as a technical advisor. When asked why this trip was important, his answer was simple, and direct:
"In Zambia, parents who have a child with a developmental disability typically receive very few, if any, services or treatments for their child."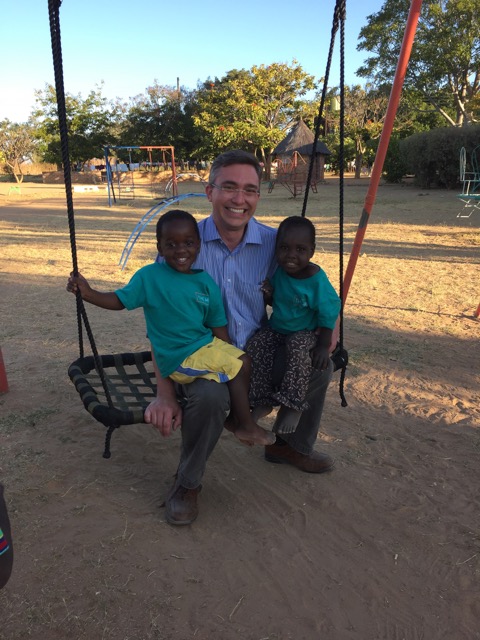 The trainings will be adopted from the World Health Organization's Parent Skills Training Programme for Caregivers of Children with Developmental Disorders, an ongoing WHO initiative that Dr. Reichow has been working on since its inception in 2013. Before beginning, Reichow notes, "we will need to work with our partners in Zambia to ensure that the training is culturally relevant and meets the needs of the families in Zambia that will be receiving the training."
Tentatively, the trainings would entail eight group sessions, and three home visits for the families, with program content delivered through modeling and guided practice during the group sessions and targeted coaching of parent-child interactions during the home visits.  According to Reichow, "if we can show that [the implementation of the WHO Parent Skills Training Programme] has a positive impact on children and families, the WHO will likely publish the training package on their website as an open-source program," meaning that diverse audiences across the globe would be able to access, adapt, and utilize this ground-breaking program, free of charge.
The project is an interdisciplinary collaboration between Reichow; Patricia Snyder, Ph.D., Director of the Anita Zucker Center; David Lawrence Jr., Endowed Chair in Early Childhood Studies; and Marylou Behnke, M.D., a Professor Emeritus at the Anita Zucker Center. The project in Zambia sprung partly from Dr. Reichow's work with WHO, and partly from conversations with Dr. Behnke. Dr. Reichow notes, "we are doing the work in Zambia with Marylou Behnke; who has been doing a summer medical mission there for nearly 20 years. During her time, doing that work, she was seeing a lot of children with disabilities and there wasn't anything for them or their families available, or very little available."
For Dr. Reichow, an individual passionate about addressing challenges for children with developmental disabilities since his days in the classroom, to see the creation of a sustainable program in areas that don't have specialist trainers would be "exciting and satisfying to see something get started from nothing." This work would add to his long record and dedication to "helping young children and their families, especially those with vulnerabilities."
Story by: Alexis Brown