When Jamie Aulton is not taking classes in early childhood theory and research or helping Dr. Maureen Conroy with the Center's BEST in CLASS Web project, she is using the analytical skills and ideas she has learned at the Center to impact the Gainesville community at a bicycle shop.
Aulton and her husband run the Freewheel project, a non-profit bicycle collective. The organization provides bicycle-related services, such as bicycle repairs, bicycle education classes, and a bicycle thrift shop to Gainesville community members. One of the shop's most unique features is its free services for children, grounded in Aulton's commitment to education and early childhood.
"When you walk into the shop, someone you know is there. I don't know where we'd be without the community. It's one of the most rewarding parts of being a part of the shop."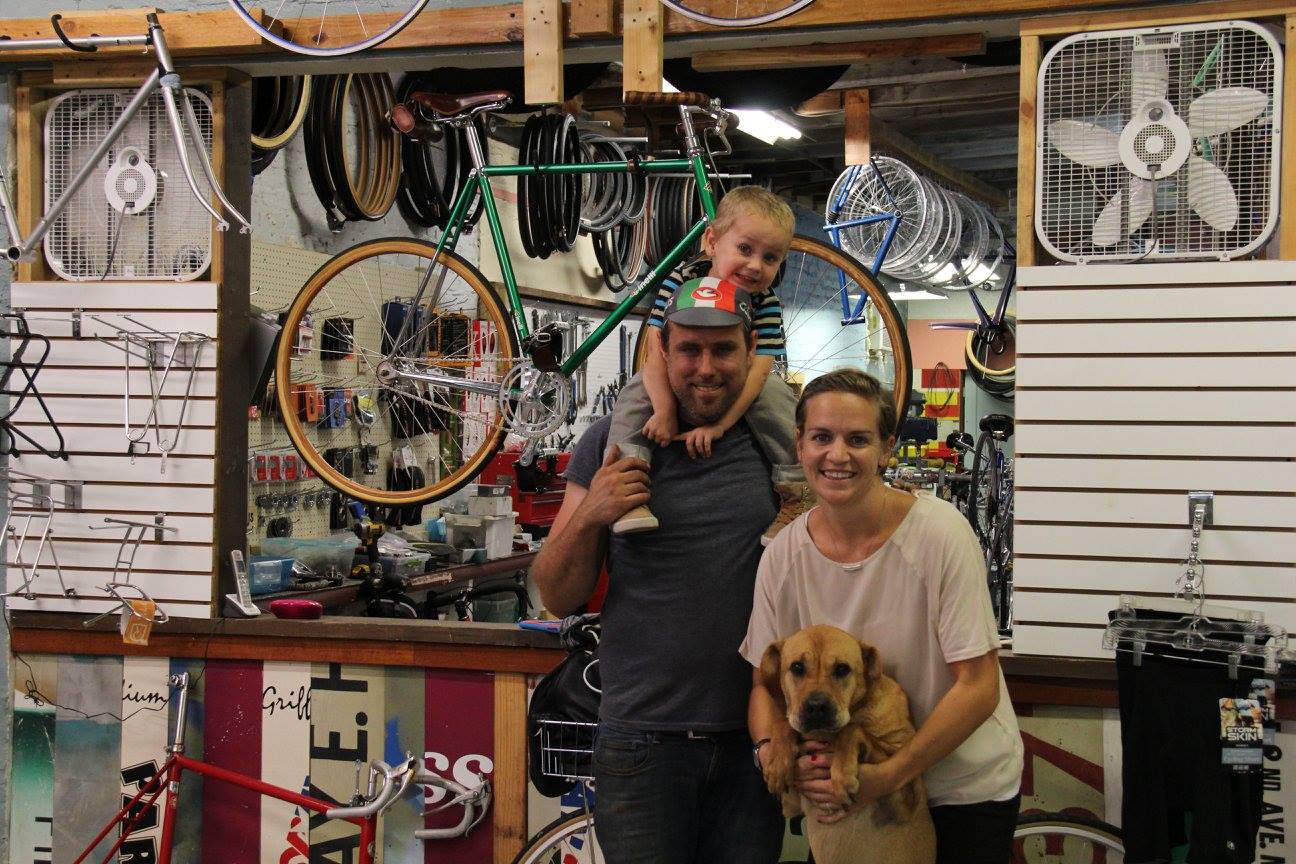 Aulton and her family at the Freewheel Project's bike shop.
"We're in the Porters neighborhood and we have a crew of kids that are in and out all the time," said Aulton. "Our shop also does free service on all children's bikes. As long as the child is present – we will do the service."
In addition to free bike repairs, Jamie's experience in early childhood education and development has shaped other Freewheel Project initiatives.
According to Aulton, being a student at the Center has only strengthened her competence and confidence to help children who visit the organization.
"What's really awesome with being a part of the Anita Zucker Center is learning evidence-based ways that you can make real impacts," Aulton said. "The Center has impacted the way I manage our organization."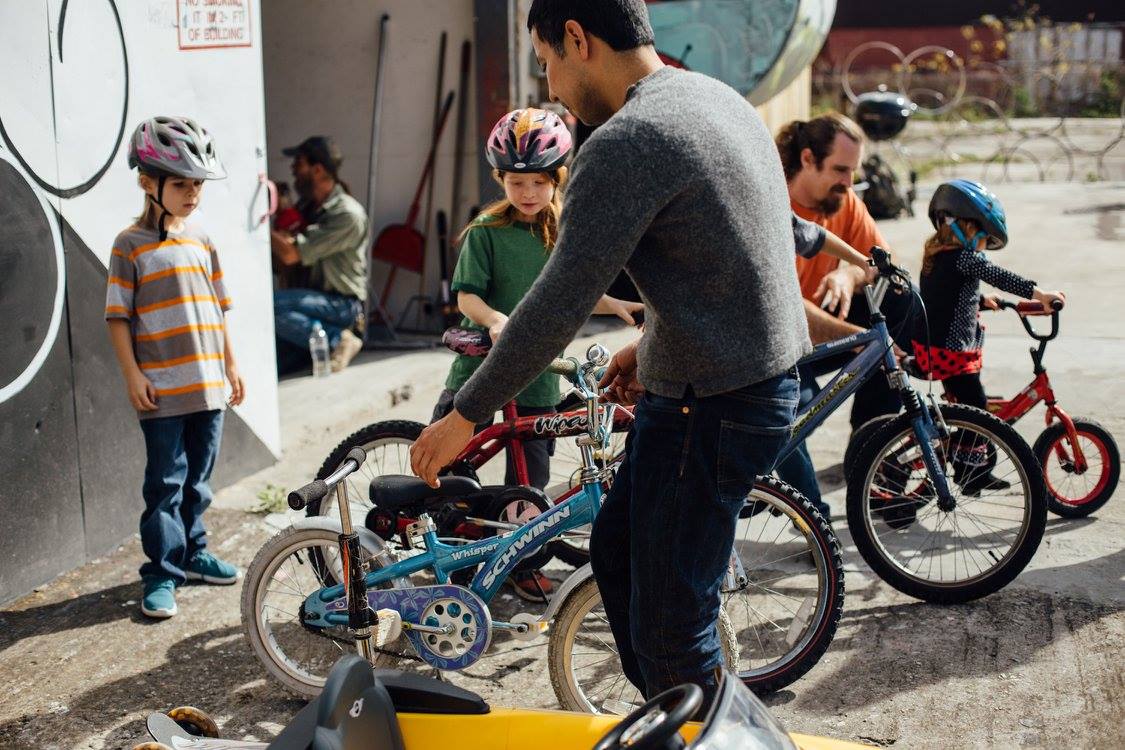 Volunteer at Freewheel Project assists children with their bikes.
In addition to implemention of evidence-based practices, another major impact of the Center for Aulton has been a commitment to sound data collection to measure the impact of the project's services on the community.
"I think that we've probably given away shy of 200 bikes since we've opened," Aulton said. "Now, I've started collecting more data and I've learned that it is important to measure our program impact, as well as attributes of our regular operations and events. These data are important as we look to quantify our impact, as well as when we work to improve the programs and services we provide for the community."
For Aulton, whose primary research interests are in young children's social-emotional development and supporting families and children impacted by poverty, the Center has provided a solid framework for how research, policy, and practice intersect, especially on the community level.
"On the weekends when I'm spending time in the community, it really energizes me," Aulton said. "Seeing kids and being around kids really energizes me to want to go and learn more, so it's kind of like a big learning cycle!"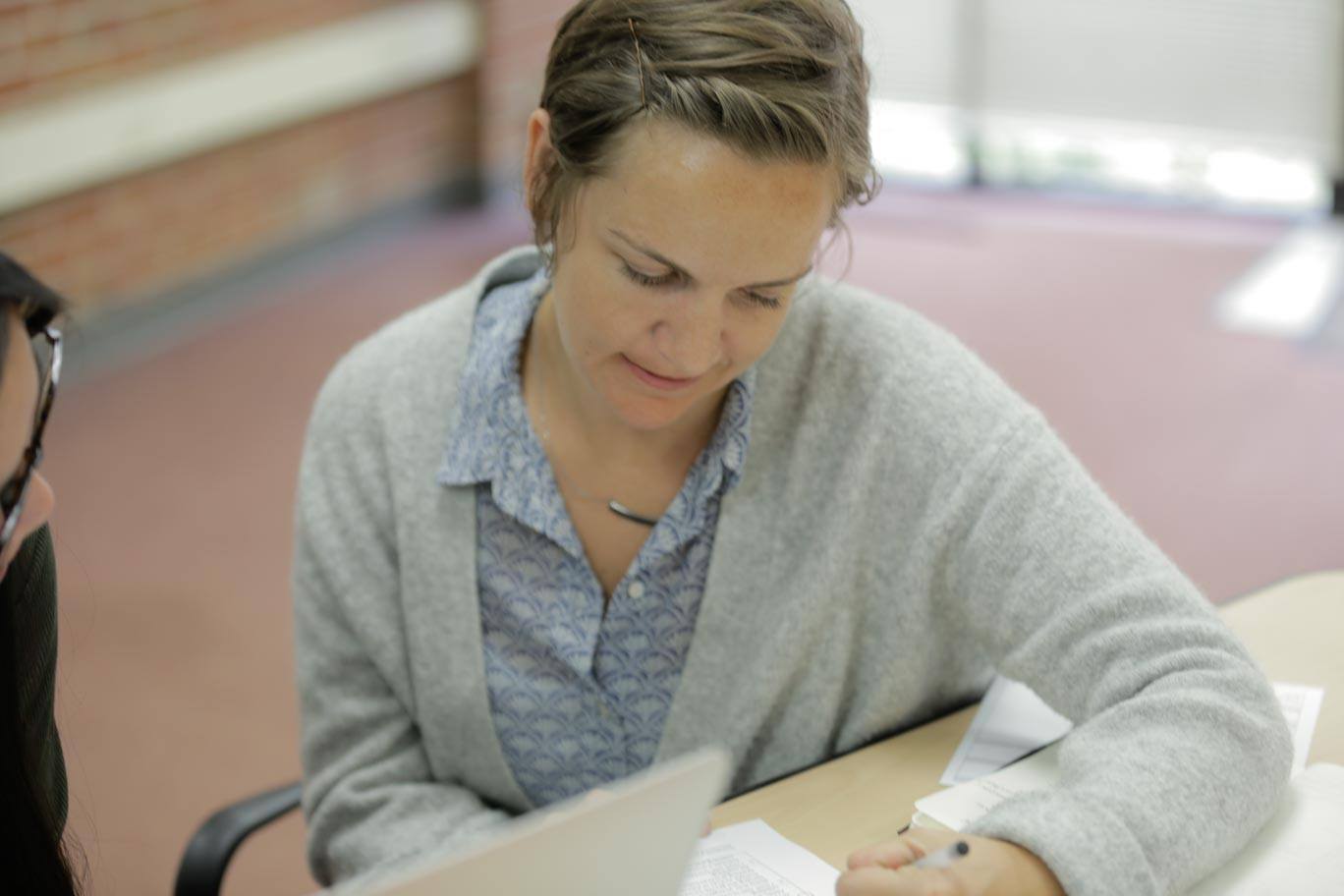 Aulton works with other Center members during professional development training for practitioners.
"The research the Center is doing, through my classes, the theory and the research, it really supports me to make more meaningful choices and actions," Aulton said. "It's stuff that has science and evidence to support it… it's something that I'm really proud to be a part of."
Story by: Alexis Brown