When Helena Mawdsley discovered an opening for a post-doctoral fellowship position with the Anita Zucker Center for Excellence in Early Childhood Studies, she felt a calling to apply, even though applying would mean taking a leap of faith and transforming her life.
At the time, Helena was serving as a research coordinator at Johns Hopkins University in Baltimore, Maryland. She had already gained a Bachelors of Arts in Psychology from the University of Notre Dame, a Masters of Arts in Child Development from Tufts University and a doctorate in Applied Developmental & Educational Psychology from Boston College. Though she was happy with her current work, she felt like there was more she could be doing to expand her work and challenge herself.
"I was at a crux for my career where I could stay where I was or be a little adventurous and seek additional training," she said.
Helena saw a posting for an Institute of Education Sciences (IES) post-doctoral fellowship training program with the Center that piqued her interest.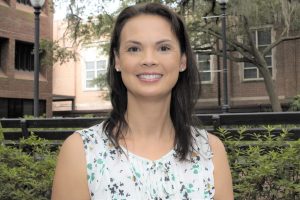 Helena Mawdsley  
Ph.D. in Applied Developmental & Educational Psychology, Boston College
M.A. in Child Development, Tufts University
B.A. in Psychology, University of Notre Dame
"When I first saw the posting on the IES website to come to the University of Florida for a two-year fellowship, I felt hesitant,"  she said. "But then I spoke to Dr. Snyder on the phone about the fellowship and realized it was great opportunity."
Despite her initial uncertainty, speaking with Patricia Snyder, now UF distinguished professor of Special Education and Early Childhood Studies, and director of the Anita Zucker Center, solidified her interest.
She quickly applied and was one of the first to be interviewed for the fellowship. After several visits to the Center, Helena took the leap and moved herself and her family 800 miles to Gainesville, Florida, to begin the position in August 2013.
We reached out to Helena to learn more about her experiences at the Center and explore her journey since departing the Center. Today, she is a Clinical Assistant Professor at the UF College of Education in the School of Human Development and Organizational Studies in Education (SHDOSE).
As an IES Fellow, Helena primarily worked on two IES grants. First, she was a site coordinator for the Embedded Practices and Intervention for Caregivers (EPIC) research study, which focused on giving caregivers the knowledge and tools to embed learning opportunities into everyday routines for their infants and toddlers with disabilities.
Helena had previously worked as an early intervention (EI) home visitor in Boston, Massachusetts, and served families similar to those involved in the EPIC project. This prior experience supported her work on EPIC by providing her a deeper understanding of the project's mission from a practical perspective.
Additionally, she supported data collection for the Embedded Instruction (EI) for Early Learning IES-funded project, which is a large multi-site study to evaluate the effects of different forms of professional development on teachers' implementation of embedded instruction. Embedded instruction is an approach that promotes engagement and learning in everyday activities, routines and transitions for young children with or at risk for disabilities in inclusive preschool classrooms.
Helena shared that rather than rely solely on an intervention therapist to visit in-home every week, EPIC was aimed at teaching parents how to provide their children interventional support too. "The EPIC study was geared toward supporting the parent to be able to embed developmental support strategies within daily routines," she said. "It provided a five-question framework to guide caregivers in their EI strategy implementation. Additionally, EI providers were continuing to coach parents."
She continued, "I strongly believe in Early Intervention services and their ability to empower families who have children with disabilities. Working on the EPIC study allowed me to feel I was having a direct impact on our practice. I am grateful to the Center and to IES for the opportunity to work on the project."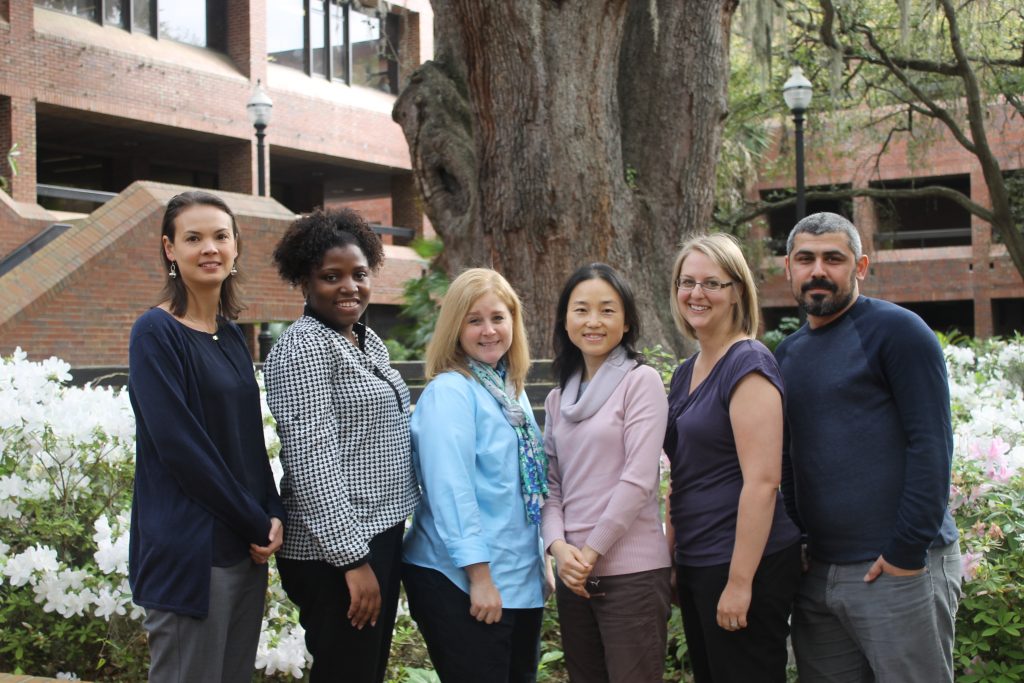 Helena's research interests lie at the intersection of developmental and educational psychology and early childhood. The experiences she gained at the Anita Zucker Center, helped her become more familiar with early childhood research and figure out how to synthesize her interests.
After working with the Center for two years, Helena transitioned into an adjunct professorship role at the UF College of Education. Today, she serves as a clinical assistant professor of Human Development.
"Teaching was always something that I was interested in; it was a skillset I didn't have," said Helena. "It was always something that I wanted to grow my skills in, even if it was just adjuncting that would have been fine, but now I'm doing it full time."
Thus far, she has taught several classes at both the undergraduate and graduate level. While she has enjoyed each class she has taught, two of her favorites have been Human Growth and Development, which she now supervises, and Human Development in Educational Psychology at the doctoral level.
"They're all my favorites," she said. "But those are really close to my heart."
This semester, she is branching out into an age group beyond her prior first-hand experience. Currently, she is teaching a course titled the Young Adolescent designed for Education minors interested in teaching at the middle and high school levels.
"I've learned so much about adolescents," she said. "It's been really exciting to learn new things. Which is the other thing I really like about teaching. You're constantly learning."
Looking to the future, Helena hopes to continue to grow as an educator, to improve her courses and to eventually become a clinical associate professor.
Although she is no longer directly serving at the Center, she continues supporting the work of the EPIC project through a survey-based research study, which she began as an IES Fellow. Established during her fellowship, she asked parents to complete a parenting self-efficacy survey on how well they believe they can carry out their child's intervention.
Since then, she has continued to do exploratory factor analyses on the pilot study survey data and has presented her findings at several conferences. She hopes to apply for grants to expand her studies and continue the research.
"That's been really exciting," Helena said. "…I'm hoping to write the paper for it and write the grant for it so that I can continue to collect data on it."
In reflecting on her time with the Center, Helena shared taking the leap and moving 800 miles was absolutely the right decision for herself to develop new skills and thrive throughout her journey.
"Life doesn't always work out how you expect it to — and sometimes that's a good thing," she said.
WRITER: Macayla Bricarell, communications intern, UF College of Education