Understanding her passion is rooted in supporting young children, Feihong Wang has dedicated her career to fully understanding their needs and becoming deeply involved in all aspects of early childhood development. Through her journey in the field, Feihong has gained experience working in research, language translation and instruction both in China and the United States.
"I would say that I'm just very open to different directions of exploration," she said.
Feihong was interested in studying English and broadening her opportunities by learning a second language, so she made the decision to pursue her bachelor's degree in English and a master's degree in Foreign Linguistics and Applied Linguistics at Central South University in China. During her studies, she translated and tutored English for both adult and child learners. This experience helped her realize her passion for working with young children, and she wanted to pursue that avenue further.
"I think that a second language broadened my horizon —  being able to know a totally different world — because that was my motivation behind pursuing English in the very beginning," she said, "and later on I was also an English teacher and that teaching experience brought me closer to children."
Feihong realized studying psychology could support her in her quest to fully understand young children and their needs. She believed that educational psychology and developmental psychology were a good fit for her as a former teacher and would help her to understand her students better.
"I thought I wanted to do more because human minds and behavior is so interesting and because of my exposure to all different kinds of students and their behaviors and emotions," she said.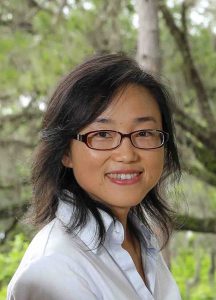 Feihong Wang
Ph.D. in Developmental Psychology, UNC Chapel Hill
M.A. in Educational Psychology, Measurement and Evaluation, UNC Chapel Hill
M.A. in Foreign Linguistics and Applied Linguistics, Central South University
B.A. in English, Central South University
A.B. in English Education, Changsha University
Feihong went to UNC Chapel Hill in 2003 to study Educational Psychology and focused her studies on infant attachment, specifically attachment disorganization and its effect on development.
Interested in parenting behaviors, she took the opportunity to focus her Ph.D. program on understanding family dynamics and its relationship to future development of maladaptation. She was involved in coding children's behavior in parent-child interactions and through that experience she started her two research lines: one on attachment disorganization and another on early childhood task engagement.
With her family preparing to relocate to Florida in 2013, Feihong sought out a fellowship that would enable her to continue growing as a researcher. She found the Institute of Education Sciences (IES) postdoctoral fellowship at the Anita Zucker Center for Excellence in Early Childhood Studies and made the decision to reach out to learn more about the opportunity. After contacting Patricia Snyder, center director, Feihong decided to apply and redirect her career.
"I contacted Dr. Snyder indicating my interest and sent in my application," she said. "Then, I was invited for the on campus interview. I was happily recruited to be an IES postdoctoral fellow."
We reached out to Feihong to learn more about her experiences at the center and explore her journey since departing the center. Today, she is a lecturer in the Department of Psychology at the University of Florida.
During her two years with the Center, Feihong worked primarily on BEST in CLASS an intervention program developed by Center Co-Director Maureen Conroy and her colleagues that helps teachers gain the knowledge and tools needed to build positive learning experiences for young children. She supported BEST in CLASS through teacher observation, data management and manuscript development for publication and presentation.
Feihong also had the opportunity to train early childhood educators through BEST in CLASS to learn how to create positive interactions with the intention of supporting young children's social-emotional learning and reducing their challenging behaviors.
Feihong also engaged with teachers and children in Head Start classrooms. These activities helped in expanding her knowledge and experiences with children living in poverty.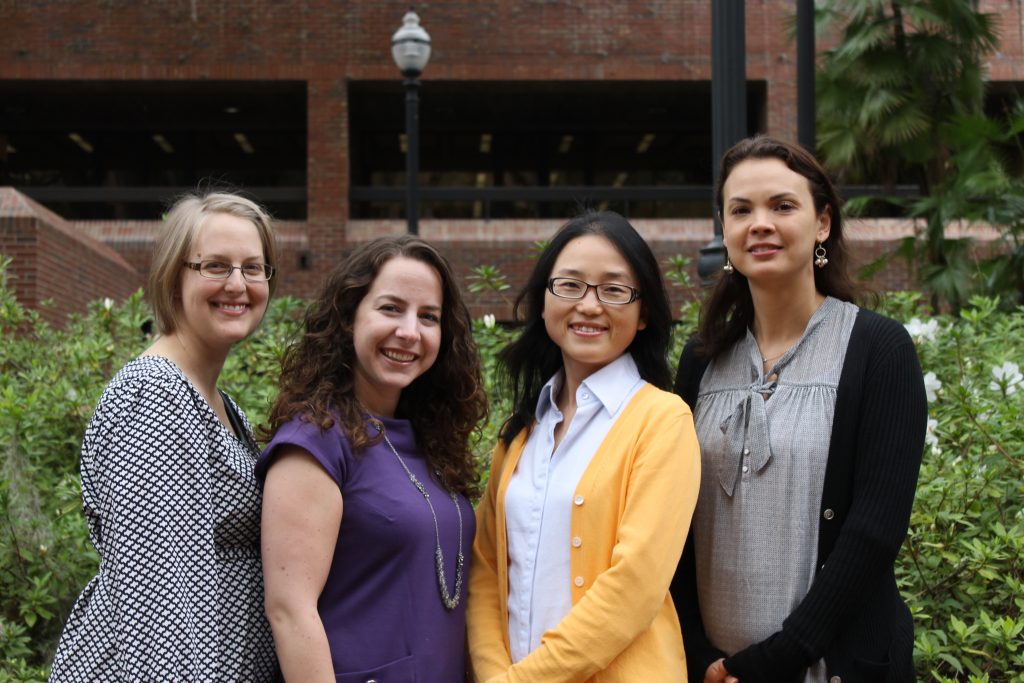 "I think it brought me to the reality of some children's life experiences," she said . "I really got firsthand information, which also fostered my research and passion in doing more work for children."
She shared the fast pace and intellectual challenges at the center provided her incredible training that not only pushed her to work harder, but also better in order to perfect her craft
"Under all those pressures and intensive work, we came together for the benefit of the younger generation," said Feihong.
When reflecting on her time with the center, Feihong shared it was an intense responsibility and fulfilling experience.
Through her research exposures at the center, Feihong went on to become directly involved with students at risk for falling behind their peers and came to understand the importance of her work in their lives. She believes that students interested in doing work with the center should be ready to learn and know that the work will be rewarding.
"It pushed us further and made us think if we really enjoy doing research and if we really cared about the children at risk, and it's that kind of responsibility — that social responsibility to hold people together," she said.
Feihong went on to teach adjunct at both Santa Fe College and with the UF College of Education's School of Human Development and Organizational Studies in Education before beginning her current role with the UF Department of Psychology. While she is currently a lecturer, Feihong sees "researcher" as a core piece of her identity and prefers to approach teaching from a researcher's perspective.
"I think that teaching gives us the opportunity to really enlighten people's minds, and that's something that's really rewarding to me," she said.
Looking forward in her career, Feihong wants to continue developing her two research lines and continue  to use her platform as a lecturer to help her students. Feihong hopes to be the kind of educator that not only helps students to grow their knowledge of the course, but also to grow as individuals through real-world application of her lessons.
Feihong shared the interdisciplinary field of early childhood is rewarding, and encourages those interested in the field to find their passion by looking at all the different aspects and find the one that they are most interested in.
"Once they identify that core interest —  that passion — then they need to persevere on that," she said.
WRITER: Macayla Bricarell, communications intern, UF College of Education