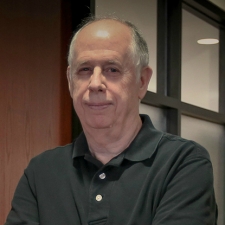 James Algina, Ed.D.
Professor Emeritus
Professor Emeritus of Research and Evaluation Methodology, College of Education
Email: algina@coe.ufl.edu
Education
Ed.D. in Psychometrics, Statistics
University of Massachusetts
B.A. in Psychology
University of Rhode Island
AWARDS & APPOINTMENTS
UF Doctoral Mentor Award, 2009
University of Florida Research Foundation Professor, 2001-2003
Editor, Journal of Educational Measurement, 1990-1992
Associate Editor, American Educational Research Journal, Section on Teaching, Learning, and Human Development, 1996-1998
Editorial Board, Contemporary Educational Psychology,
1996-2014
Editorial Board, Psychological Methods, 1999-Present
Editorial Board, Journal of Educational Measurement,
1986-1989; 1996-2013
Editorial Board, Journal of Experimental Education,
1996-Present
Biography
Dr. James Algina is a professor emeritus of research and evaluation methodology, College of Education. Currently, he serves as Co-PI for an efficacy trial funded by the Institute of Education Sciences focused on embedded instruction. He is a core faculty member and serves on the leadership team for the Anita Zucker Center for Excellence in Early Childhood Studies.
He is a co-author of Classical and Modern Test Theory (1986) and was a UF Research Foundation Professor, a Fellow of the American Educational Research Association, and a Fellow of the American Psychological Association (Division 5). His research interests have been in effect sizes, robust methods of analysis, and sample size planning.
Dr. Algina has published more than 100 refereed articles and chapters. He has served as PI, Co-PI or researcher on 20 grants. In these efforts, his primary role was the design of studies and analyses of data.
Dr. Algina has mentored many junior faculty as well as master's and doctoral students. In 2009, he received a UF Doctoral Mentor Award. He has worked with or provided methodological advising for researchers who have completed or are completing studies using ECLS-K, ECLS-B, ELS: 2002, NELS:88, PEELS, and the Early Head Start Research and Evaluation Study.
Select Publications
Grapin, S., Kranzler, J., Waldron, N. Joyce, D., & Algina, J. (in press). Developing local oral reading fluency cut scores for predicting high-stakes test performance. Psychology in the Schools.
Griffin, C.C, Dana, N.F., Pape, S., Algina, J., Bae, J., & Prosser, S. (in press). Prime Online: Exploring teacher professional development for creating inclusive elementary mathematics classrooms. Teacher Education and Special Education.
Marshik, T., Ashton, P.T, & Algina, J. (in press). Teachers' and students' needs for autonomy, competence, and relatedness as predictors of students' achievement. Social Psychology of Education.
McLaughlin, T.E., Snyder, P.A., & Algina, J. (in press). Using generalizability theory to examine the dependability of scores from the learning target rating scale. Topics in Early Childhood Special Education.
Smith, S. W., Daunic, A. P., Algina, J., Pitts, D. L., Merrill, K. L., Cumming, M. M., & Allen, C. (in press). Self-regulation for students with emotional and behavioral disorders:  Preliminary effects of the I Control curriculum. Journal of Emotional and Behavioral Disorders.
View full list of Dr. Algina Publications (pdf)