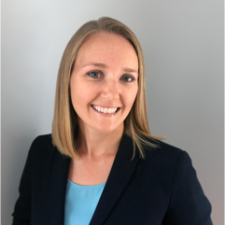 Education
Ph.D. in Developmental Psychology, University of Georgia
M.S. in Developmental Psychology, University of Georgia
B.A. in Psychology, University of North Florida
Biography
Dr. Bright joined the team in 2017. Her multidisciplinary research focus is on child maltreatment and related social determinants of health and development. She is particularly interested in maltreatment prevention and intervention strategies in primary care and education settings. Her work has been supported by a maternal and child health workgroup grant, new investigator grants from both the American Psychosomatic Society and Academy Health, a research grant from Psi Chi, and a graduate research fellowship from the National Science Foundation.
Selected Publications
Bright, M.A., Hinojosa, M.S., Knapp, C., Alford, S., Bonner, B., Fernandez-Baca, D., & Ralston, D. Adverse childhood experiences and health outcomes in childhood/adolescence: co-morbidity of physical, mental, and learning disorders. Psychosom Med.2014;76(3):A-9.
Bright MA, Granger DA, Frick JE, & Out D. (in press) Individual differences in the cortisol and salivary α-amylase awakening responses in early childhood: Relations to age, sex, and seep in toddlers. Dev Psychobiol
McCullough C, Harding H, Shaffer A, Han R, & Bright MA. (in press) Intergenerational continuity of risky parenting: A person-oriented approach to assessing parenting behaviors. J Fam Violence
Bright MA, Franich-Ray C, Anderson V, Menahem S, Cochrane A, & Jordan B. Infant cardiac surgery and the father-infant relationship: Feelings of strength, strain, and caution. Early Hum Dev. 2013; 89: 593-9.
Franich-Ray C, Bright MA, Anderson V, Northam E, Menahem S, Cochrane A, & Jordan B. Trauma reactions in mothers and fathers following their infant's cardiac surgery. J Pediatr Psychol. 2013;38: 494-505.
Bright MA, *Sayedel-Huq M, Hardt N Spencer T, Applebaum, J. Animal Cruelty as a Red Flag for Family Trauma: Beyond Maltreatment and Domestic Violence. Child Abuse and Neglect. In press. https://www.sciencedirect.com/science/article/pii/S014521341730426X
Bright MA, Kleinman L, Vogel B, Shenkman E. Impact of Medicaid managed care on access to primary and preventive care for foster youth. Academic Pediatrics. In press. https://www.ncbi.nlm.nih.gov/pubmed/29081362
Bright MA & Thompson LA. Association of adverse childhood experiences and co-occurring health conditions in early childhood. Journal of Developmental and Behavioral Pediatrics. In press. http://journals.lww.com/jrnldbp/Abstract/publishahead/Association_of_Adverse_Childhood_Experiences_with.99360.aspx
*also an AZ staff member